The best way to learn about Medforma's effectiveness is to read what others have said.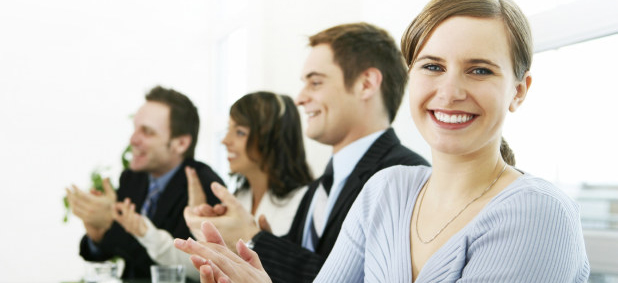 Medforma
Customer Success Stories
Medforma has yielded definitive health improvement results for its customers. Here are some specific customer stories and quotes from our users.
Pearson NCS - Printing and Data Analysis Company
Prior to Scantron acquisition.
Client Quote:
"We achieved 68 percent participation, significant improvement in morale, 50 percent reductions in stress and depression, notable reductions in absenteeism."
-John Harnett, Former President, Pearson NCS
This customer success story shows the importance of the President/CEO involvement. The CEO of this division wanted to add Medforma programs because he felt the employees could benefit from learning to live a healthier lifestyle. He also felt a need to address a high rate of absenteeism in his workforce.
The company implemented the Medforma/Stanford (Health, Lifestyle and Readiness Assessment (HLRA) and Behavior Change Digital Coaching Health Kits. In addition to the online assessment and digital health coaching kits, Medforma also provided Custom Program Communications Materials, Incentive Program Design, and Management Reports.
Company data was gathered by Medforma in four snapshots from 2005 - 2008. In 2005 the company had a serious weight issue with 65% of employees at an unhealthy weight, lack of physical activity, a growing diabetes rate, and 38% employees with high stress due primarily to pending acquisition. Employees were encouraged to use the Medforma health assessment and behavior change programs. Over 30% of employees participated in the digital stress coaching kit and this coupled with increased communications regarding the pending acquisition "stress that negatively affected their life" dropped by over 12%.
Medforma helped Pearson NCS implement a special communications and rewards program intended to educate employees on how to self manage stress and depression and within six months the company reported an improvement in morale and lower absenteeism. Medforma also met with Pearson NCS management to discuss steps the management could take to lower stress and depression particularly in light of an ongoing acquisition and resulting employee concerns.
We believe the success of the program at this company was due in large part to the participation by the CEO. As he used Medforma group reports that showed high stress levels among employees, he personally sent out communications to the employees encouraging them to participate in the Medforma programs. Each time a letter went out from him regarding the program the company gained an average of 10% increase in participation. Over the years that Pearson NCS used the Medforma/Stanford health tools, 68% of the employees completed the annual health assessment and one or more digital health coaching programs with minimal use of monetary incentives.
Prior to Reuters acquisition.
Client Quote:
"Results allowed me to negotiate a 2 percent company-wide premium reduction with our insurance provider."
-Richard Dunn, Former VP Human Resources, Benefits and Compensation
Objective:
This company needed an employee wellness program in order to educate employees about their health as well as learn about the health needs of its employee population in order to design effective benefit programs that would reduce overall health care costs to the corporation.
Solution:
The Medforma/Stanford comprehensive online health risk assessment included 85 to 100 questions and took 15 to 20 minutes for individuals to complete. Medforma analyzed the employee aggregate data and compared to national averages and the Surgeon General's Healthy People Targets.
For employees who had little or no access to computers, kiosks were set up in manufacturing and other key areas for employees to utilize for HLRA and Behavior Change Program completion.
Programs Used:
Health, Lifestyle, and Readiness Assessment (HLRA)
Behavior Change Programs (Health Kits)
Custom Behavior Change Program Design by Stanford
Management Reports
Results:
After six months, over 65 percent of all eligible users were enrolled and had completed at least one or more health assessments. Medforma met with Company B management to review the results, which showed an inordinate number of individuals with lower back pain, allergies and asthma. It was determined that several customized programs addressing these issues were needed. In conjunction with the Stanford Prevention Research Center and Stanford Pain and Allergy Clinics, Medforma developed online Chronic Pain and Allergy programs specific to this population's needs, launching the programs in less than three months. The new behavior change programs were added to the already existing programs (Walking, Jogging, Weight, Nutrition, Stress, Tobacco Cessation, etc.) and within six months after launch of the new programs the company began to realize major reductions in chronic pain and allergy related absenteeism and health care costs. These reductions allowed Customer B to negotiate 2 percent premium reduction.
Objective:
This customer needed an employee wellness program to educate employees about their health as well as learn about the health needs of its employee population to design effective benefit programs that would reduce overall health care costs to the corporation. Furthermore, the company supported raising awareness of Women's Cardiac Disease and wanted to include such a program in its wellness initiative.
Solution:
Developed and implemented a Health Management Program with several HLRAs, including one general assessment and one specific to Women's Cardiac Disease. Custom program communication materials and incentive program were designed in order to entice participation. Programs were launched online within two months of contracted services.
Programs Used:
Health, Lifestyle, and Readiness Assessment (HLRA)
Behavior Change Programs (Health Kits)
Custom Behavior Change Program Design by Stanford
Custom Program Communications Materials
Incentive Program Design
Management Reports
Results:
A participation rate of 85 percent was achieved using incentive programs developed and administered by Medforma. Aggregate data reports unveiled an exceptionally high obesity rate of employees. Medforma developed and launched a weight assessment program which included calculators for BMI, Caloric Expenditure, Target Heart Rate, Percent Body Fat, etc. Using Stanford's understanding of human behavior, the program gave individual users an eye-opening report that guided them to join the weight management, nutrition, walking and jogging behavior change programs. After four years, all major risk factor areas were reduced by 12 to 60 percent, including Blood Pressure, Cholesterol, and BMI.
Objective:
This company needed to design an effective health savings account (HSA) program for its disparately located, unionized well driller employees. As part of the HSA program design, the company's HSA needed to establish a health risk baseline of potential HSA participants as well as educate and encourage them to take greater control of their health. This company also needed 100 percent participation in the program in order to accurately assess the well driller employee needs.
Solution:
The company leveraged the Medforma/Stanford online health, lifestyle, and readiness assessment (HLRA) that includes 85 to 100 questions and takes 15 to 20 minutes to complete. The Medforma Program included assessments and personalized reports that incorporated all the Stanford developed learning theories. The employee base worked remotely from the company office, so being that the programs were completely online, the well workers were able to easily complete the HLRA from their homes or via public internet access at libraries or cafes.
The Medforma Aggregate Management Reports compared participant data to the U.S. Surgeon General's Healthy People standards and informed the company management about areas of health concern.
Programs Used:
Health, Lifestyle, and Readiness Assessment (HLRA)
Aggregate Management Reports
Results:
100 percent participation from 100 employees within one month led to the company having the data it needed to design and implement the HSA program.
We have a lot of positive feedback from employees - here is a sample of our user feedback.
"I lost 24 pounds and have my blood pressure under control. If it wasn't for Health Portrait I wouldn't have known I'd reached the obese category."
"I thought I was pretty healthy and knowledgeable about health, but the personal reports gave me additional ideas on what I can do to improve my health that I hadn't thought of before."
"Easy to use and easy to understand."
"Stanford affiliation makes it credible."
"I think it will get me motivated to do something."
What I liked the most was "[my employer's] care for people to be healthier."
"Gives step by step instruction to a healthier life."
"It was a wake up call!"
"Very relevant and organized information."
For more information on our company or programs, please don't hesitate to contact us.