Proven results with 30,000 users
Affordable cost and excellent return on investment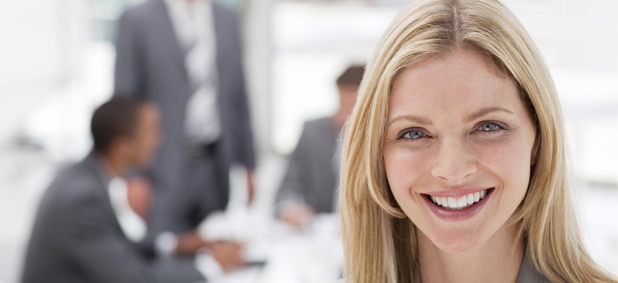 About
Medforma
Since 2001, Medforma has been helping businesses reduce health care costs and improve employee health through affordable, internet-based behavior change programs based on research and tools developed by the Stanford University Health Improvement Program (HIP) - the world leader in understanding human readiness and behavioral change.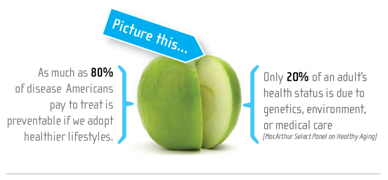 There's a lot we can all do to help lower health care costs. Preventing disease in your employees - your most valuable asset - beats cost shifting by offering these additional benefits: reduced absenteeism, reduced health care claims, reduced employee turnover, increased productivity and morale, favorable return on investment and a healthy corporate culture.
Why Medforma? Proven, Exclusive, Affordable, Simple
We deliver exceptional value to organizations of all types and sizes:
Research-based behavior change tools and content
Proven results with 30,000 users
Affordable cost with excellent return on investment
Improved employee health &amp productivity
Group data that provides health insights and pinpoints wellness investments
Lower health care costs
Internet model makes our program easy to implement and use
Why Medforma?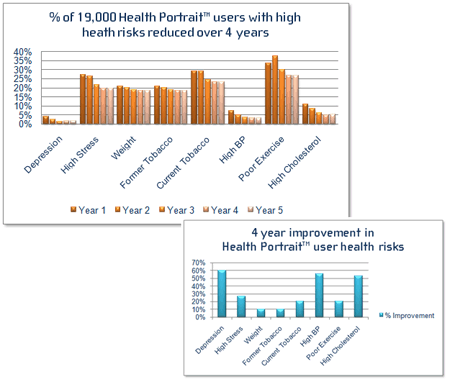 19,000 users; 10-61% drop in high risk health behaviors
Medforma's programs help lower health risks across all key costly preventive diseases. Period. Our efficient online tools "zero in" on health behavior change that people are ready to change, effectively using employee's valuable time and employer budgets. Medforma users report success rates of 63% or higher at changing one targeted health behavior for more than one year. This produces ROIs of 10:1 minimum or a savings of $500-$1000 per employee per year. Of course, the return on investment goes far beyond medical cost savings and includes improved productivity and morale. You can change your company culture when you give your employees the tools they need to become a healthier, more vital workforce.
Medforma's programs apply to all employees and dependents regardless of selected health plan or providers. This, along with our pledge of privacy, results in participation rates that far surpass typical wellness programs. There's never any hidden agenda to use data for insurance rating or denial purposes, create medical or disease management referrals, distractive advertising or sell additional supplies or services. Medforma data is collected independently of health plans and stays with the company year after year even if the health plans change. This is valuable in allocating wellness resources as it provides a long-term unified look at the entire workforce's progress in reducing targeted health risks.
Medforma programs are designed to be easy, efficient, and effective to use.
The best way to learn more about them is to read what employers and employees who have used them liked most:
"Our results from the Medforma programs allowed me to negotiate a 2% company-wide premium reduction with our insurance provider."
-VP Human Resources & Compensation
"We achieved significant improvement in morale, 50% reductions in stress &amp depression, and notable reductions in absenteeism."
-President
"I lost 24 pounds and have my blood pressure under control. If it wasn't for Health Portraitâ"¢ I wouldn't have known I'd reached the obese category."
-Employee
For Additional Information On Our Programs...

Health Portrait™ for Employees consists of a Health, Lifestyle & Readiness for Change Assessment that covers 90% of preventable diseases and health behavior change programs targeted at those health risks for which the individual is ready to change and are important to the individual's health improvement. Features and services include:
Health, Lifestyle & Readiness Assessment
Personalized Reports
Physician Snap Shot Report
Health Kit Digital Coaching Programs
Biometrics (additional fees apply)
Exercise Prescriptions (additional fees apply)
Personal Health Coaching (additional fees apply)
Learn more or check out our Free Trial and Pricing

Group Portrait™ Developer for Employers, which works in conjunction with Health Portrait™, is available to wellness program administrators. We've taken our years of best practices and proven techniques and wrapped them up in a simple to use administrative tool to help program administrators plan, launch, promote and analyze wellness efforts. Features and services include:
Credit card registration and payment
User invitation system
Resources to plan, promote and analyze your wellness efforts
Real-time, on-demand aggregate management and user activity reporting
Consulting services (additional fees apply)
Learn more or check out our Free Trial and Pricing